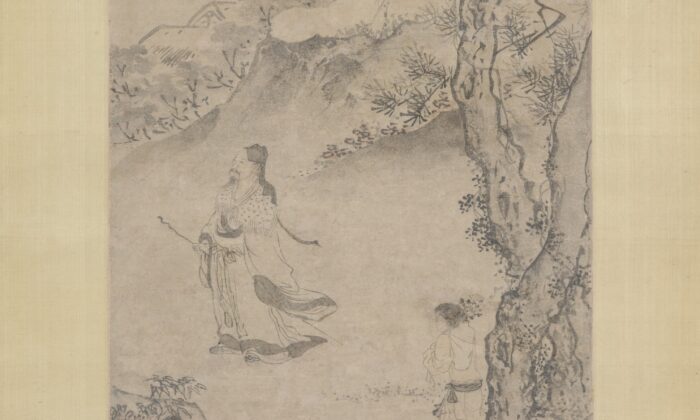 A detail from an ink-wash landscape painting, in which artist Du Jin portrays poet Tao Yuanming strolling through the mountains and admiring the chrysanthemum blossoms. The Metropolitan Museum of Art. (Public Domain)
The Chrysanthemum: Symbol of Strength and Resilience
BY CORA WANG October 15, 2020 Updated: October 15, 2020
As the chill of autumn sets in, trees begin to lose their vibrancy, and plants begin to wilt. However, one particular flower prevails—the chrysanthemum. While its surroundings fade away, defeated by the frigid winds, this resilient flower starts to bloom. Since ancient times, the chrysanthemum has been admired by Chinese scholars and literati, inspiring countless poems, stories, and artworks. Besides praising it for its beauty, they celebrated it as a symbol of vitality and tenacity.
Humble Origins
One of the earliest instances of the chrysanthemum being referenced in poetry is in Qu Yuan's famous poem "Li Sao," composed during the Warring States period. In it, he writes: "Dew from magnolia leaves I drank at dawn, / At eve for food were aster petals borne."
Aster refers to the Asteraceae family of flowering plants, to which the chrysanthemum belongs. Chrysanthemums were commonly used for medicine. In just a few lines, Qu Yuan conveys that what matters isn't one's wealth, but rather the purity of one's one's heart.
Click here to continue: http://archipeddy.com/en/china/chrysanthemum-for-strength.html
As the poem suggests, the chrysanthemum was a relatively unremarkable flower, frequently used by the common people. In the "Compendium of Materia Medica," a Chinese herbology volume written in the Ming Dynasty, numerous species of chrysanthemums were documented. One may wonder how such an ordinary plant acquired such cultural significance.
The chrysanthemum's escalation in status didn't occur until the Jin Dynasty, when it was brought to prominence by the poet Tao Yuanming. Much of his poetry described his simple life of reclusion in the countryside. He often drew inspiration from the beauty and serenity of nature, with the chrysanthemum being a frequent motif. In one of his most famous poems, "Drinking: No. 5," he wrote: "I pluck chrysanthemums under the eastern hedge, / and gaze afar towards the southern mountains."